Summer Diet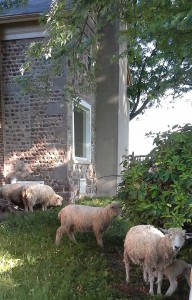 Our lambs are grass fed all summer.  We take April and May born lambs and put them and their mothers out to pasture together, only calling them into the barn at night for predator protection and health checks.  They may receive some winter feed as treats or if temporary dry lot management is required for medical reasons.
Winter Diet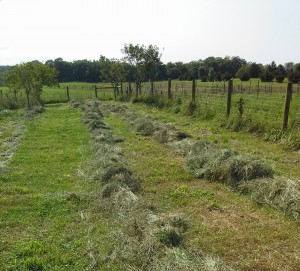 After the grass gives out in October or November, we start feeding hay, root vegetables, Brassica (cabbage, broccoli), and winter squashes.  
Why not just grass?
At this time we don't own our own haying equipment, so we are at the mercy of our hay contractor for our hay quality.  To feed hay exclusively, you need to do 3-4 small volume cuttings of fresh young grass, but our contractor prefers to get a larger volume of hay for his gasoline, and waits until the grass is more mature.  This mature grass has less nutritional value, and the sheep can actually lose weight getting as much of it as they want.  As much as we feel a forage only diet is ideal, the welfare of our animals comes before that ideal.
Why not grains and beans?
The diet of the animal affects the type of fat they store.  This changes the taste, texture, and healthfulness of the meat they produce.  Seeds like grains and beans are high in Omega-6 fatty acid, and produce meat that is high in Omega-6 fatty acid. When we can not do purely grass fed, we provide other low omega-6 feeds. There is currently more research available on grass fed beef than grass fed lamb, but they have very similar digestion and metabolism, with similar results.
Read more about the benefits of grass fed meat: