One of the major goals of our farm is rare breed conservation. We have chosen the Cotswold as our primary focus.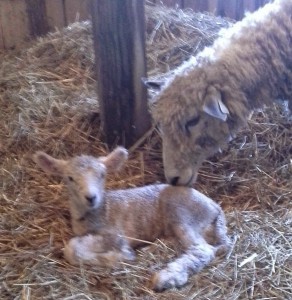 The Cotswold sheep breed is a very old breed listed as "Threatened" by The Livestock Conservancy.  Preservation of rare breeds is important not only for intrinsic reasons, but also for the future of the commercial sheep breeding industry, as changing needs in the market and the environment may require different genes than are popular today.
The Cotswold breed is under pressure not only from being crowded out by commercial breeding, but is is also being used as foundation stock for rehabilitation of the Wensleydale breed which is escalating in popularity among hand-spinners.  (All of the allowed out-crosses for Wensleydale flocks are listed by The Livestock Conservancy, with the Leicester Longwool being a breed in critical status.)  We are lucky to have a large Cotswold flock in our region, making it possible for a small breeder like myself to maintain a more genetically diverse flock.  We chose the Cotswold breed for our farm because of it's large size, hardiness in a forage based hillside system, it's mild temperament, mild flavor, and beautiful long wool.
The beauty and genius of a work of art may be reconceived, though its first material expression be destroyed; a vanished harmony may yet again inspire the composer; but when the last individual of a race of living beings breathes no more, another heaven and another earth must pass before such a one can be again. – William Beebe, The Bird (1906)
You can help save rare breeds by buying rare breed products.  All products sold support the year-round expenses of the rest of the flock.  To support rare breeds in a vegetarian manner, please buy rare breed wool and wool products.  The harvesting of wool is not just harmless, annual shearing is necessary to the health of wool breeds.
Read more about Cotswold sheep at: