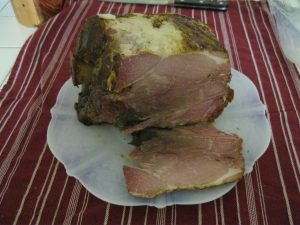 This winter we will have beef, pork, and lamb available. Our butcher dates are 2/18 and 2/25, processing will be complete in late February, early March.  Deposits to reserve your share are first come first serve.   You'll get a call when your meat is ready.  Pickup will be at Caver's Meats, 10647 Kelsey Rd, Clyde, NY 14433, during their regular business hours.  (They usually have hours on Saturdays as well as weekdays.  Call ahead, (315) 923-2040, to confirm they are open).  We've chosen Caver's because they offer smoking and we've been very happy with our prior experience as a customer with them.
The beef has been 100% grain free for 2 years, and is almost 3 years old, so should have a deeper flavor than commercial beef.   The breed is Brown Swiss, so the individual steaks should be large but somewhat lean.  It should have a little more fat than last year's beef.
The lamb is lifetime 100% grain free.  We also have one mutton available, if you want a deeper flavor and a lower per pound price (same per head cost).
The pork is Idaho Pasture Pig.  They are raised on conventional feed, housed on deep bedding and encouraged to root as pigs naturally do.
We are still waiting on cut sheets from the butcher, but I believe Caver's does standard cut quarters (split side) or custom cut sides of beef, sides or wholes of pork custom cut, and whole custom cut lamb/mutton.
The price for beef and pork is $3.50 per hanging weight pound.  Lamb/mutton is $250 per head. $100 down reserves your share.  $100 deposit reserves your share.  Price includes delivery, slaughter and processing fees.  Smoked cuts will be additional.
Once your share is reserved we will work with you to fill out your cut sheet.  We will deliver your animal, your butchering fees, and your cut sheet to the butcher, who then works for you to finish your order.  The butcher will weigh your share and I will send you the rest of your bill, which will be due when you pick up your order.
Deposit checks may be sent to:
Denise Skidmore
4513 Eddy Ridge Rd
Marion, NY 14505