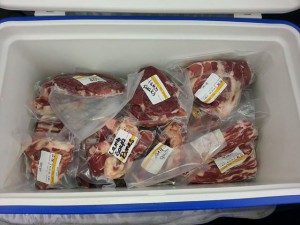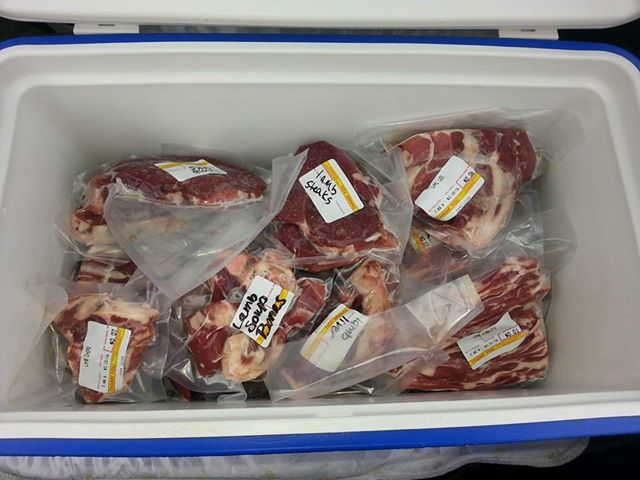 For the first time, we've made an appointment for USDA inspected retail cut lamb butchering.  After this appointment we will have individual retail cuts for sale, and we're hoping that this will be ready for Easter.
These lambs are the largest we've ever processed, they're very nearly a year old, and should make decent presentation roasts.  The whole legs I'm curing for myself average 3 lbs each.  I think two, each cut at the joint, will neatly fill my 6 qt crockpot.  (I'm planning to ask the butcher to precut that for you.)  I'm planning lamb hamb for the potluck easter brunch, and a shoulder roast for family dinner.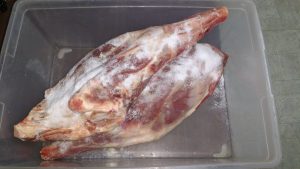 So, I need your input.  If you want a lamb cut by March 31st that isn't frozen, you need to let me know in advance what you'd like.  If you want a specific cut but won't get it in time for easter, you need to let me know in advance what you'd like.  Poundage per cut won't be knowable until after the butcher date.  Prices will be $9-12 per pound, we'll figure out the details when we see what we get back from the butcher.  We won't be taking any deposits at this time.  Give me a call at 585-420-8908 or e-mail me, or message us on Facebook.
I'm currently planning bone in half leg roasts, rib and loin chops (4 per package) and shoulders done as half and whole bone in roasts.  Shanks, hides, organs, ground lamb, and tallow may also be available upon request.
As with all our lamb, this is grain free and minimally treated.  They are purebred Cotswold lambs raised with their mothers on pasture until well after natural weaning.  Purchase of Cotswold lamb supports the maintenance of this rare breed.