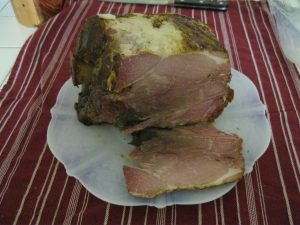 For the first time this year we are selling pork and beef.  Our butcher date is 9/27/2017, processing will be complete around 10/4-10/7.  The price is $3.50 per hanging weight pound.  $100 down reserves your share.   You'll get a call when your meat is ready.  Pickup will be at Smith Packing, 4120 Pembroke Dr, Marion, NY, during regular business hours.  (MTRF until 5 PM, Saturday until noon.)
The beef is finished 100% grain free.  We are offering a half or split side quarters.  (A split side means you get cuts from both the front and back quarters, divided evenly by weight.)
The pork is heritage cross breed pork.  Half and whole shares are available.
Both pork and beef are available for $3.50 per hanging weight pound, including delivery, slaughter and processing fees.  Smoked cuts are an additional eighty cents a pound.
$100 down reserves your share.    Once your share is reserved we will work with you to fill out your cut sheet.  We will deliver your animal and your cut sheet to Smith Packing, who then works for you to finish your order.  Smith Packing will weigh your share and I will send you the rest of your bill, which will be due when you pick up your order.
Deposit checks may be sent to:
Denise Skidmore
4513 Eddy Ridge Rd
Marion, NY 14505
Stay tuned for lamb availability announcements this winter.