Now taking deposits for February butcher.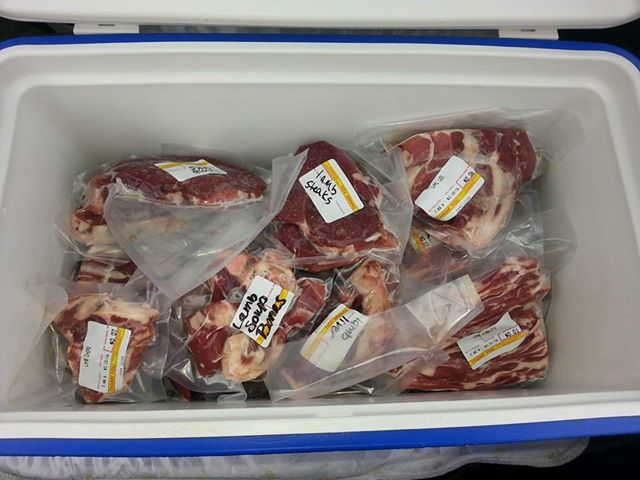 This year's lambs are all full blooded Cotswolds, so those of you who got Tunis crosses from us before can expect a bit more meat in your boxes. Last year's lambs ranged from 32-46 hanging weight pounds. There is still considerable variation in hanging weights expected, but we're aiming for a higher average.
Cotswolds are a rare breed, listed as threatened by the Livestock Conservancy.  Purchase of lambs not useful in our breeding program supports the maintenance of the breeding group that will bring Cotswold genetics forward to the next generation.
We've lowered the price this year to $250 per head. This price covers the cost of a live lamb, transportation to Smith's Packing in Marion, NY, and your payment to the butcher. The butcher works for you, according to the directions on your cut sheet. I can help you fill out the cut sheet if you wish. (I may have a copy of your prior cut sheet if you have ordered from us before.)
We accept requests on a first deposit come, first reserved basis. Deposits may be mailed to:
Denise Skidmore
4513 Eddy Ridge Rd
Marion, NY, 14505
Include a $100 check, and contact information so we can discuss your cut sheet.
Important Dates:
$100 Deposits due 1/22. (Assuming nobody else beats you to the punch.)
Cut Sheets due February 2nd. (I'll help you with this after I get your deposit.)
Butcher day February 3rd, no refunds or exchanges after this date.  You can still talk directly to the Butcher about changes to your cut sheet.
February 10-17th The butcher finishes hanging and cutting and calls when the meat is ready.  Please pay your remaining balance of $150 before or at pickup.
The butcher is open during normal business hours MTRF and on Saturday mornings.
If the weather is below 20F, (and that's iffy given our weather so far) I can bring your meat from the butcher to Perinton on a weekday for pickup, but please be prepared to come out to Marion if the weather does not permit me leaving food in my car.
Please e-mail me with any questions you may have.  Looking forward to hearing from you.