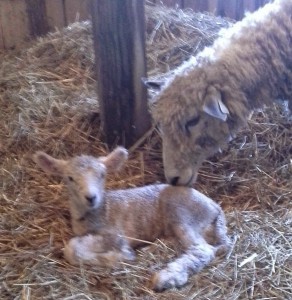 One of the major goals of our farm is rare breed conservation.  You can help save rare breeds by buying rare breed products.  All products sold support the year-round expenses of the flock.
We have chosen the Cotswold as our primary focus. We chose the Cotswold breed for our farm because of its large size, hardiness in a forage based hillside system, mild temperament, mild flavor, and beautiful long wool.
The Cotswold sheep breed is  listed as "Threatened" by The Livestock Conservancy.
The beauty and genius of a work of art may be reconceived, though its first material expression be destroyed; a vanished harmony may yet again inspire the composer; but when the last individual of a race of living beings breathes no more, another heaven and another earth must pass before such a one can be again. – William Beebe, The Bird (1906)
Read more about Cotswold sheep at: